Trabajos
Náutica y mecanización de piezas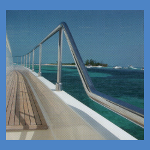 Nautica and machining of parts
Acero y aluminio naútico, pulidos a espejo, mecanización o reconstrucción de piezas usadas, hacemos nuevas bajo plano o muestra.Toldos a medida, barandas, candeleros y un largo etcétera.
Fabrication in stainless steel and aluminium.Stantions, handrails, biminis, etc mirror finished. New constructions and repairs.
Soldaduras especiales y automoción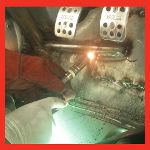 Special welding and automotive
Aluminio reconstrucción con soldadura TIG, culatas para la automoción y planificado, llantas de aluminio, cualquier soporte o pieza, incluido el mundo de las dos ruedas. Accesorios a medida, colocación de refuerzos, tubos de escape en inox y colocación de arco de seguridad integral.
Aluminium repairs for the auto motive industry, TIG weiding repairs to cylinder blocks + heads, mag wheels for cars + motorcycles , customised accessories, bracing, frames, exhaust pipes + installation of integral roll bars.
Construcción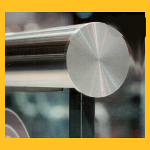 Construction
Acero inox barandillas para piscinas, balcones, terrazas de chalets, escaleras interior o exterior. Mecanización o construcción de piezas bajo plano o muestra en cualquier otro material.
Repairs to construction machinery parts fabricated to measure from samples or plans in any material.